On August 5, 2014 in Belaya Tserkov Assembly of the Nationalities of Ukraine, NGO "United Mariupol", and All-Ukrainian Charitable Fund "To You" (ACF 2U) in partnership with the Mayor's Office of Belaya Tserkov held Roundtable "Anti-Terrorist Operation – Win Together!".
Leaders of roundtable organizers, representatives of city authorities, officers of Belaya Tserkov 72nd Motorized Rifle Brigade, which actively participates in ATO since the very beginning of the conflict, officers' relatives, and representatives of city public organizations took part in this event.
Rovshan Tagiev, Head of Assembly of Nationalities of Ukraine (ANU) in his opening speech, said: "We, the Assembly of Nationalities, always encourage everyone to peace and tolerance. Ukraine is a multinational tolerant country in which there is no language problem. But in the east of our country there is a war imposed on us. And any citizen cannot remain indifferent. All the time we are in contact with our partners, so we decided to help our soldiers from Belaya Tserkov. On our behalf and on my own behalf, I want to convey high-quality body armors protection, night vision goggles, tents … Our partners also brought food, water and much more. We hope that it will support our guys who are defending our freedom." Head of the Assembly thanked the mayor of the city for all the things he is doing to support our troops and for his support of national and ethnic groups of the city.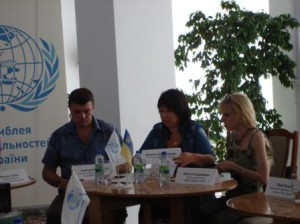 In his turn Belaya Tserkov Mayor Vasiliy Savchuk thanked all citizens of the city and sponsors for their support provided to Belaya Tserkov Brigades #72 and #79.
ACF 2U Chair Julia Goldenberg stated: "Unfortunately, war is next door. There are relatives of those who participate in this war. It is next to impossible to imagine their feelings. It is very painful for me that we are talking about the war every day. However, I do believe that if we consolidate our efforts all together we will win!"
Arkadiy Monastyrskiy, ANU Deputy Head expressed concern that public should be aware about the attitude of the population to the situation and stressed that's especially important to be aware about the position of representatives of different ethnic groups.
Natella Andrushchenko, Belaya Tserkov school Mitzvah-613 Director stated: "I hope that our next meeting will be dedicated to our victory!"
Anatoliy Semenov, Head of NGO "United Mariupol" shared with the audience that he met the participants of Brigade #72 in Mariupol when they were performing their duties. He did see how they struggled. "If I could work my will the entrance to the city would be decorated with monument "Belaya Tserkov – City of Heroes".
Major Shtefan from brigade #72 spoke about the recent developments on the battlefields, and thanked all those who support our army. He expressed confidence that in the coming months our guys come back with the victory, and we will meet them at the station of Belaya Tserkov not with body armor but with flowers, as expected, to meet the heroes and winners!


The meeting appeared to be rather emotional, eyes were full with tears. Some mothers didn't come due to their state as this day funerals of one of the solders took place..
In the end of the roundtable organizers gave to soldiers the so needed humanitarian aid brought from Kiev.