All-Ukrainian Charitable Foundation "To You" has distributed blankets, heaters, electrical bed lines, and woods among vulnerable citizens and internally displaced people from the east of Ukraine. Recipients of winter assistance had the possibility to pick it up at ACF 2U office. Homebound people were delivered the goods by our volunteers.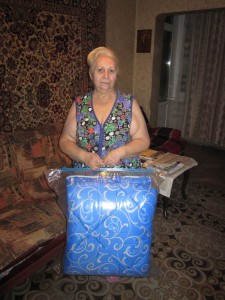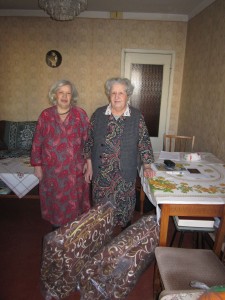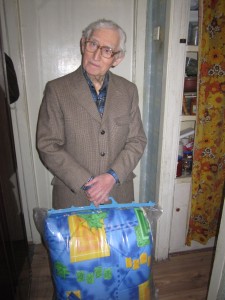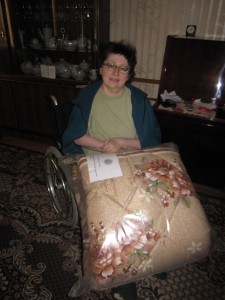 The Berezhnaya Family
Tatyana (born in 1974) and Yuriy (1963) are internally displaced. Due to the war in the east of the country they had to leave their home in Donetsk and to escape to Belaya Tserkov with their daughter Sofia born in 2008. Both parents had good jobs in Donetsk, well-equipped apartment and Sofia was supposed to go to Donetsk Jewish school.
The well-doing family had to leave all their belongings and escape from their home town.
Having arrived to Belaya Tserkov they contacted local Jewish community and local Jewish school. The girl was taken by the school and the community activists helped this family to rent a flat.
But it was the easiest part of their new life. Both parents can't find any job. They don't have any income at this stage and need the most basic things – warm clothes, bed linens, etc.
The community does its best to support the family.
Due to our project the family received so need winter blankets and fan heater.
The Fridman Family
Oleg (born in 1975) and Oksana (born in 1974) had to escape from Yenakiyevo, Donetsk oblast' as they were due to the war. There are two lovely boys in the family Egor born in 2008 and Nikita born in 2011.
The family is renting a flat in Belaya Tsserkov.
Oksana was lucky to find a job as a district medical doctor. Her monthly salary makes 1,500 UAH = 90 USD. Oleg is doing his best to find a job but so far without any success. Thus, they have to survive on Oksana's income.
Children attend Jewish kindergarten. They suffer a lot due to psychological problems and adaptation in a new place. They do miss their home, their toys, and their friends. The parents do their best to support kids and to help them to get used to a new reality.
Due to our project the family received so need winter blankets and fan heater.
Irina (Orna) Tseitleenok
Irina contacted Belaya Tserkov Jewish community in August 2014. Her Jewish name is Orna.
She is an observant Jew who had to escape from Donetsk on her own. Born in 1954 Orna is a lonely pensioner.
Having arrived to Belaya Tserkov this summer without any belongings she started to face one problem after another. How to rent a flat, how to get her pension, where to find kosher food, what to put one, etc…
It was rather complicated for her to find an appropriate flat.
The situation with her was much more complicated than with other refugees because Orna suffers from post generic neurosis for decades. Escape from Donetsk, months of war there, movement to a new strange place did influence her. Thus, while negotiating with the owners of the flat she was going to rent she had a seizure and was put to a psychiatrical hospital for 10 days.
After that with the help of the local Jewish community she got adjusted to her new life.
Her life is Torah and religion. The apartment she rents is very cold and is located in the edge of the city so she spends more than an hour to get to Synagogue for Shabbat and holidays as she is strictly observant. Just few days ago the owner of the apartment informed her that she has to move out by spring. It is a new stress for Orna.
Belaya Tserkov Jewish community does its best to support Orna.
Due to our project the family received so need winter blankets and fan heater.